Vietnam
Vietnam is a Southeast Asian country on the South China Sea known for its beaches, rivers, Buddhist pagodas and bustling cities.
November 18, 2019
Vietnam
Vietnam…where does one start with this amazing destination! I spent 10 days in Vietnam last year. 10 days in which my eyes remained wide with awe at the spectacular sights, 10 days in which my mind discovered so many fascinating historical and cultural facts and 10 days in which my tastebuds revelled in all the delicious delicacies the country has to offer. I do think the food and drinks were my favourite thing about Vietnam! Everything is so deliciously fresh. Vietnam actually has no supermarkets as they buy everything fresh daily from the markets. The seafood was incredible, the pho was to die for and the passion fruit drinks…omg the passion fruit! Anyway, I could go on all day about the food but had best delve into some other highlights of my trip!
Hanoi. Where it all started
Our journey began in Hanoi where we marvelled at some of the beautiful French Colonial architecture whilst at the same time trying to learn the ropes on roads overrun by motorbikes merging in every direction and ceaseless horns honking! A trip to Vietnam is also not complete without a Halong Bay cruise on one of the many junk boats where you can admire the beautiful limestone rock formations and caves.
Our journey then took us down to Central Vietnam and in particular Hue and Hoi An. Hue is very much a historical city complete with palaces and pagodas. It is home to a vast 19th-century Citadel, surrounded by a moat and thick stone walls. We took an adventurous ride around in one of the many bicycle tuk tuks which was a great alternative to walking in the heat!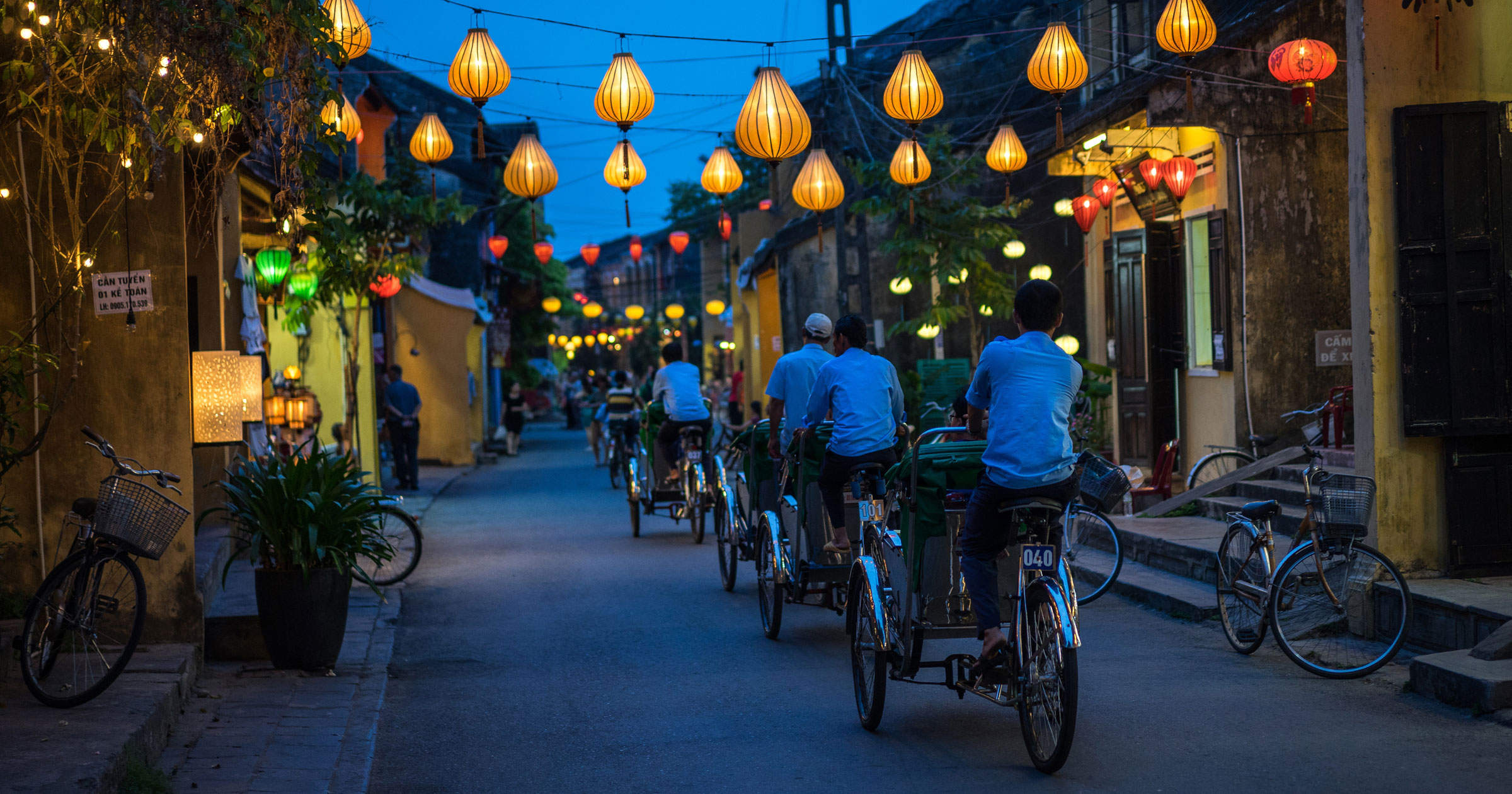 Night view of busy street in Hoi An, Vietnam. Hoi An is the World's Cultural heritage site, famous for mixed cultures and architecture.
Next stop, and my favourite, was Hoi An and Da Nang. Home to some of the most beautiful beaches and amazing 5 star resorts. My pick: the Fusion Maia where they include two spa treatments per day in the rate. My kind of resort!!! Hoi An is a UNESCO World Heritage site and a beautiful town, especially in the evenings when all the lanterns are lit. It is a much slower pace with no motor vehicles allowed in the Ancient town. A visit here is not complete without getting some clothes, bags or shoes made by the one of the endless tailor shops. We even partook in lantern making and an art class which was a bit of fun.
Our final stop was Ho Chi Minh City which I found to be quite a pleasant surprise. I'm not sure what I was expecting but the city is also full of some magnificent architecture and attractions. If we thought the number of motor bikes in Hanoi was crazy then Saigon was completely insane! There are apparently 3 million motor bikes in Saigon and let me tell you it felt like it! A street food tour on the back of a Vespa really allowed us to immerse ourselves in the culture and travel like a local. This was definitely one of the highlights of my trip. The war history in Saigon is also something that visitors should immerse themselves in with a visit to the Cu Chi Tunnels and the War Remnants Museum. The museum is not for the feint hearted and can be quite confronting but certainly sheds some light on a different perspective of the war.
PERSONALISED TRAVEL SOLUTIONS MADE EASY
Travel better, smarter and stress free